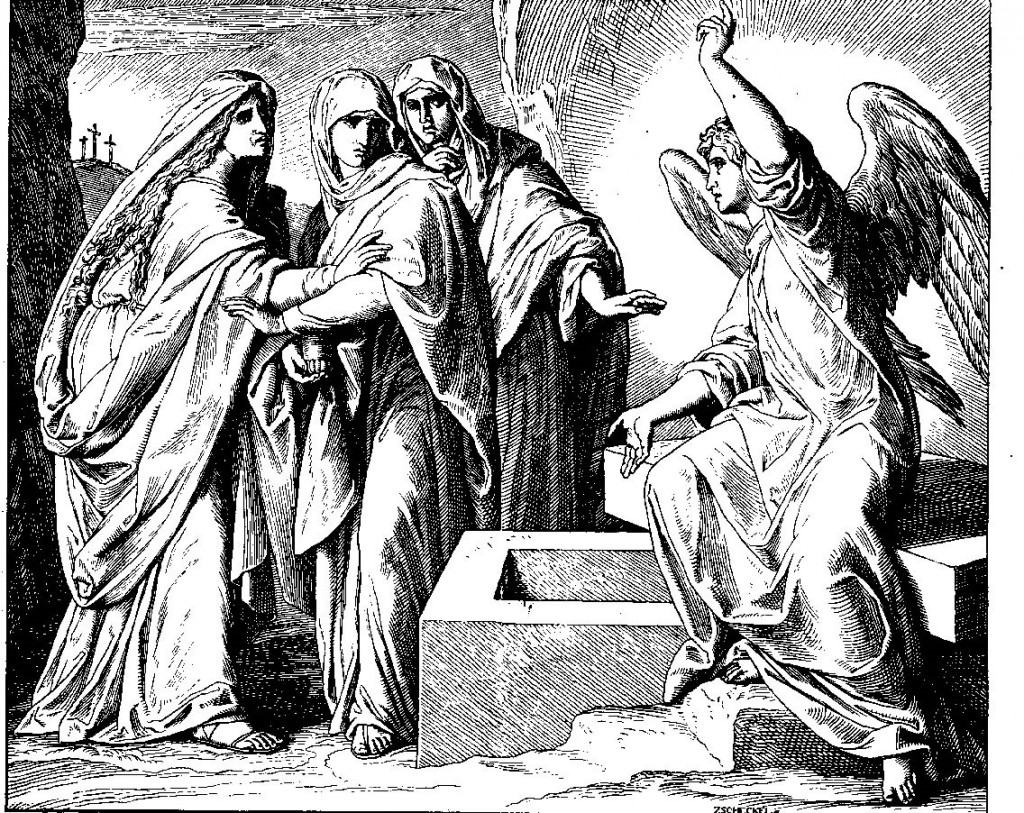 I remember the Easter Sunday's of my youth as times of sunshine, spring, going to Mass Easter Sunday morning awakened to a keen sense that something drastically different had taken place and our parish was celebrating it. People arrived at church and disembarked their cars dressed differently, in brighter colours than I had seen them wear all winter and women were wearing bright hats as were some of the young girls – some even from my class at school!
Upon entering the church there was organ music playing and our usual Sunday arrival (all nine of us children and my parents) was met with an unusual sense of joy and bright whispers as people greeted one another and made their way to their pews. The bustle of a gathering church was highlighted with the smell and sight of flowers and a hint in the air of incense from the vigil the night before.
From the opening hymn with its 'Alleluia's', the singing of the Gloria not heard since Holy Thursday and the wonderful gospel stories recounting Jesus' resurrection, one knew clearly and strikingly that this was a parish in a Church that was proclaiming the Lord risen indeed!
They say that you never forget anything you feel and I remember so well the warmth of feeling I had as a child recalling Jesus' rising from the dead. Of course, since that awesome moment when the Holy Spirit raised Jesus from death to life, the best that the followers of Jesus have been able to do is to remember it and to look back on this great and mysterious event with a real sense of "what does it all mean and what does it mean for me, for us, now? What is the meaning of saying today that Jesus has risen from the dead?
I think back to about nine years ago as I was busily packing for a trip to Lourdes, France, with a group traveling to that famous place of pilgrimage, prayer and healing. As I was dashing about the rectory making ready for my imminent departure, the emergency pager went off. I remember thinking "Not now! I'm trying to get out of here and I've got a plane to catch!" I answered the page to discover that the call was regarding a couple who had just lost their child who was stillborn and were requesting to see a priest. The sad event brought about a 'smarten up' sense within me as I quickly counted my own blessings and as I drove, turned my thoughts toward this unknown couple I would soon meet at the hospital.
When I made it to the maternity floor there were some arriving expectant mothers with bags and husbands in tow rambling towards rooms made ready for them. I searched for the room of the couple I had come to see and finally found it. The door was only slightly open and I noticed a butterfly had been placed on the door – a sign to visitors and staff that a woman inside that room had lost a child. I drew in a breath and gently pushed on the door and entered the room to the muffled sounds of a woman crying. I whispered a "hello" to alert them that they had a visitor and was then greeted by the husband and father. "Thank you for coming", he said. I was introduced to his wife who limply touched my hand in the midst of her own sorrow and ever so slightly smiled at me, sitting up in her chair.
In the face of loss and sorrow there is not much one can say or should say for words just don't cut it when it comes to the indescribable. I fumbled in my own mind searching for words that would fit or comfort but none of them made it to my lips and voice. Being present was the greatest thing that I could offer and even at that I felt awkward and in the way. Finally after a few moments I asked them if they would like me to pray and they nodded their agreement. I asked whether the baby was a boy or girl and they told me, "A boy." In the silence of that room on a gloriously sunny spring day we bowed before the Father of all and sent a little baby who had been earth bound for a time in another direction. We prayed and sent him to God. This mother who had been waiting so long for her child to arrive was now tearfully and prayerfully, with her husband, bidding him farewell and good-bye. I stayed with them for a short while, then departed, assuring them I would remember their little boy in Lourdes in the village of St. Bernadette. I went to Lourdes where I prayed, walked, reflected, did the tourist thing now and then, and remembered that little boy we sent to God in prayer. I thought about that couple and the pain they must have been feeling, mindful that God never closes a door without opening a window.
God changes without changing. The following year the RCIA process began once again in our parish and this year in larger numbers than ever before. In all thirty-nine people accompanied by thirty-nine sponsors had been preparing for either baptism or reception into the Church along with full initiation.
According to the grace of God the woman I had visited in the hospital was now among those who were seeking baptism into the Church. Her husband would be her sponsor.
One Saturday morning, exactly one year after their baby's death, my priest associate and I met the couple and a relative at the cemetery where their baby was buried. Garret's grave had a new head stone the couple wanted blessed and we commended the child to God once again mindful that we never lose anything we give to the Lord. And the following Saturday night at the Easter Vigil, Garret's mother became a member of the Church – baptized, confirmed and fed with the body and blood of Jesus. She would now live, along with her husband, as she had never lived before, a child of God on earth who had a child of God in heaven.
This story deserves telling and is only remarkable and meaningful because, in fact, Jesus did rise from the dead! His rising has changed forever our notions surrounding human bodily death for we live in the sure and certain hope that we will live with Jesus forever. Over the years countless numbers of husbands and wives have lost their beloved spouses, their parents, their children, and those who loved and were loved, to what we commonly call "death" or with words intended to soften that terrible separation of us from those we so sadly miss and mourn.
Resurrection means that we are separated only for a time – from friends, from family, from Jesus. Yet we walk with him now in ways far beyond the memories we hold dear of those who have died, for he is not only risen, but is, as Christmas recalled, "with us". This annual Feast, the greatest of all feasts of the Church, is to make us recall and renew our faith in the power of that rising that changed our living, our death, for ever. Our lives are to be lived in such a way that everything in our being lives for and longs for…. JESUS CHRIST WHO IS RISEN! (Fr. Charles)